When it comes to tennis it is necessary to pay attention to every gear you use playing. All experts agree that shoes are one of the most important thing, but let's do not forget about socks as this is also a very important footwear for tennis players to prevent injuries and improve their game. Everyone wants to feel comfortable and the first thing we need to take care of is gear that is touching our body directly.
Most tennis pros choose game socks pay major attention to 3 main criteria: support, fabric, cushion.
Let's see the best tennis socks for today as this list is made based on user experience who already use them and their insights about quality and feel. Don't forget that these socks also reduce the risk of blistering, not only that but also the level of moisture is way lower wearing appropriate socks. So, conclusion is that tennis socks are an important part of the game. See our list for top picks which will help you to make a right choice.
Top 6 Socks For Tennis
We are confident to declare that by choosing one of the above you will be satisfied. This page will be updated if any new quality models will come out to the market.
Importance Of Wearing Special Socks
If you are a hardcore player you know that every distraction can be a deciding factor of winning or losing. You have to feel comfortable and the most important thing is your feet. You don't want to feel like your feet is wet because of sweating and also don't want to feel the heat. If you choose too thin socks there is a high chance of blister to show up. To keep your focus on the game only you should choose special socks which are made for tennis.
What Muscles Are Trained by Playing Tennis
Tennis is one of the sports which use all of your energy and strength with powerful strokes and the nature of the game that is so repetitive it gives an overall fitness and action pattern.
Kinetic chain is the power that is behind every shot that is generated through the body links or segments while playing tennis. The body part you use firstly are your feet which is then transferred to your lower legs, hips trunk, upper legs, upper arms, forearms, shoulders and then lastly, on your hand. The muscles which are used mostly are your calves, upper legs, hamstrings in the back of the thighs and the butt. Next comes in the abdominal muscles and finally the chest muscles.
Overall, tennis is a game that might seems that you are playing with your arms but is a complete body workout involving your whole body muscles.
Interesting Thing About Serena Williams and Her Socks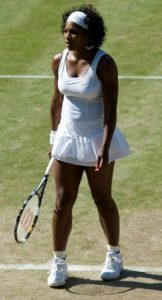 If you are familiar with pro sports you know who Serena Williams is, but for those who don't know she is one of the best women's tennis association players in the world and is always in Top 3 in rankings.
Tennis world knows some interesting fact: Serena doesn't change socks between rounds. Yes, you read it right, she is wearing the same pair from the first to the last round. She even once told to the press that she doesn't change her socks if she is in the winning streak at tournament.
Another interesting thing is that she teas her shoes the same way before each match. This is interesting and I believe that every player has some quirky things they believe in and a good example is Novak Djokovic – he never uses the same shower twice in a row and takes his best friend poodle Pierre with him during his participation in tournaments. One time he as not allowed to take his buddy and he lobbied the tournament staff to be allowed to take his dog with him, of course they agreed.