Sports in general can be quite stressful for the feet. It may leave your feet feeling sore and tired. Most of the times to solve the issue of sore feet or having pain in the feet are attributed to getting the right shoes for the sport and majority of the times, the socks are completely ignored. Wearing the right kind of socks for each individual socks is just as important as wearing the right type of shoes. The ideal socks would be comfortable to wear and protect the feet from blisters as well as act as a barrier against infection as well as from bacteria.
If you have a chance to ask any basketball player who plays the game in professional level, do socks matter. You will hear the answer every time, yes, they do! It's not only about shoes but socks play huge role in providing comfort and protection and great traction. Some players even have rituals of wearing two socks or even more.
We are all the same in particular – we have the same foot; the only difference is size in many aspects including width, finger positions and others. Major sock manufacturers learned that their product relates to players style of play, especially it's said about thickness. So let's see top picks of socks to enjoy playing basketball and feel comfortable.
Top Picks
Below are the top rated basketball socks that are reviewed based on their features, durability and their value for money.
Best Low-Top Basketball Socks
Top list for those who prefer to wear lower basketball socks.
The importance of special socks for basketball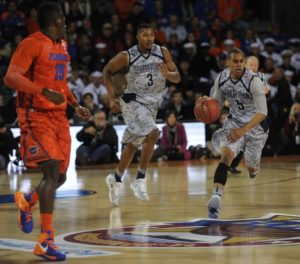 Basketball is quite a hard core and stressful sport for the feet. It involves a lot of running around as well as jumping. So it makes it very important that you wear the right type of socks to support all the jumping that you will be doing. So how do you know you are wearing the right kind of socks? A great pair should be able to handle all that sweat, the constant and everyday washing and drying, continuous movement, all the wear and tear, etc.
Style and design of the socks is also quite important to some people. The perfect basketball sock should have extra padding in key areas like the heel and the ankles, which acts to protect the feet as basketball players cut and slide their feet. The socks should also not just be ankle length but higher and at the same time, should have such a great grip that they do not slide down while running, as it can create foot problems if the fit is not accurate. Another important feature that a basketball sock, or any other sports sock must have is the moisture wicking power. Most of the times basketball players sweat a lot and it is inevitable that your feet will also be sweating so if your socks are made up of the fabric that keeps your sweat at bay, you will be comfortable as your feet will remain dry and clean and also there will be no risk of developing fungal infections or secreting a foul smell.
Tips Before Buying
Use of the sock – you know that there are different height socks available and it varies by the type of sport. Crew type socks are generally most suitable for golf, hiking or running. The best height specification for playing basketball is so called over-the-calf socks. They are best because of additional protection for ankle. For basketball it's best to use thicker socks because this game is full of side to side motion to your feet. Don't forget about added padding features as this is also important. To prevent Achilles trauma socks should have extended heel pads and of course cushioned soles. There are professional basketball players out there wearing two pairs for extra thickness. Color is one more aspect you should pay attention, of course this one is not that important as ones stated before, but you should pick socks to match team colors, of course it's up to your style.
Midfoot Compression Fit – it's an important part in the arch area of the foot. Weave should be tighter and reinforced there. Nike is known for paying a lot of attention to this issue and their top socks with this feature is called Nike Elite. They support left and right foot for maximum comfort because of shape of feet.
Fabric – getting socks made from the right fabric is essential and probably most important thing before buying basketball socks. It's known that foot has over 250k seat glands producing from 4 to 6 ounces of sweat a day. It's very important to choose a material that does not hold moisture, otherwise you create a perfect environment for bacteria to flourish. Feet must be dry, especially while you play basketball. Let's start with the worst material. It's cotton because this fabric absorbs moisture quickly and dries very slowly. Wool or synthetic fibers are way better in this case. Talking about special socks, Nike uses Dri-FIT technology to free foot from the moisture quickly. This fabric simply pulls moisture away from your feet to outer surface for evaporation. It's best to use special basketball socks to keep your feet dry and cool with additional protection from bacteria and blisters.
Sizes
Table of sock sizes corresponding to shoe size.
| | | | |
| --- | --- | --- | --- |
| Men's Shoe Size | Women's Shoe Size | Youth Shoe Size | Nike Sock Size |
| 6-8 | 6-10 | 3-5 | M |
| 8-12 | 10-13 | 5-7 | L |
| 12-15 | – | – | XL |
NBA Players Relationship With Socks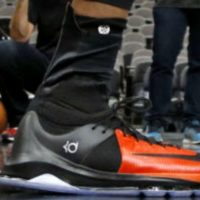 Kevin Durant is a super star NBA player and is known for layering two pairs of socks as he prefers maximum cushioning around his ankles and heels and his main requirement for socks is that he wants a lot of cushioning and he wants the feel the court at the same time. Speaking about feeling the court, this aspect is also very important to another super star Lebron James, but he wants socks with traction priority to be equal as cushioning. He also needs optimal compression and flexibility around his foot and ankle.
In his own words:
"It's important that I don't slide in my shoes, I need traction for cutting and jumping."
Nike has a deal with NBA so they provide them NikeGrip Power, Quick Crew and Power Crew models to NBA players and they love it, actually company listened to what they said and mane these socks for them.
Conclusion
It is always important to wear the right kind of socks for whatever activity you are doing. You may already have a couple of regular socks lying around in the house which you may wear, but you might end up hurting your foot or just being plain uncomfortable and unable to perform your best while you are playing the sport. When one makes sure you get the right type of shoes for a particular sport, why then are the socks not given equal importance? Wearing the right socks will not just improve your performance overall, but will also keep your feet healthy, fresh and pain free. The above list is not exhaustive but the most popular and the top rated basketball socks are reviewed for the benefit.